We Store our family heirlooms and valuables here at Haywood Congaree Self Storage too!
When packed properly, most items will be well protected in a non-climate controlled storage unit. Below are some tips on how to help pack for storage. Currently, my Great Grandmother's corner cupboard and my Grandmothers Dining room table have both been in non-climate-controlled storage for over 30 years! That is not counting the many years they were in homes that did not have climate control!

THOUGHTS TO KEEP IN MIND
Most antiques from our Grandparents era and beyond did not become antiques in a climate-controlled environment.
Many of our parents and grandparents lived and went to school without HVAC systems much of the year.
A great number of items have been stored in conventional non-air-conditioned garage spaces safely and securely for years.
It is easier to access your belongings and cheaper to move if you do not have to go down halls, up elevators or take stairs. You have less risk of bumping into things too. Most of the time, the dings, dents and damage occur while the items are being moved. It is hard enough to get our valuables out of the house and packed without damage. Avoiding additional halls, elevators, or stairs is a good idea when picking a safe Self-Storage facility to store your belongings.
It is generally safer to drive right up to your unit where you can see everything happening close by and there is no where for others to hide. A well designed facility will have good lighting and camera visibility. Some even have managers living on site to keep an eye on things 24/7.
PACKING AND STORING
For storage in any environment, leave space between items. This will avoid accidental damage and allow air to flow between your items. Plus, you'll be able to easily retrieve pieces as you need them. Use drop or painter's cloths liberally and avoid using tarps or plastic to store or wrap things unless you are simply placing it on top of concrete as an added layer of protection.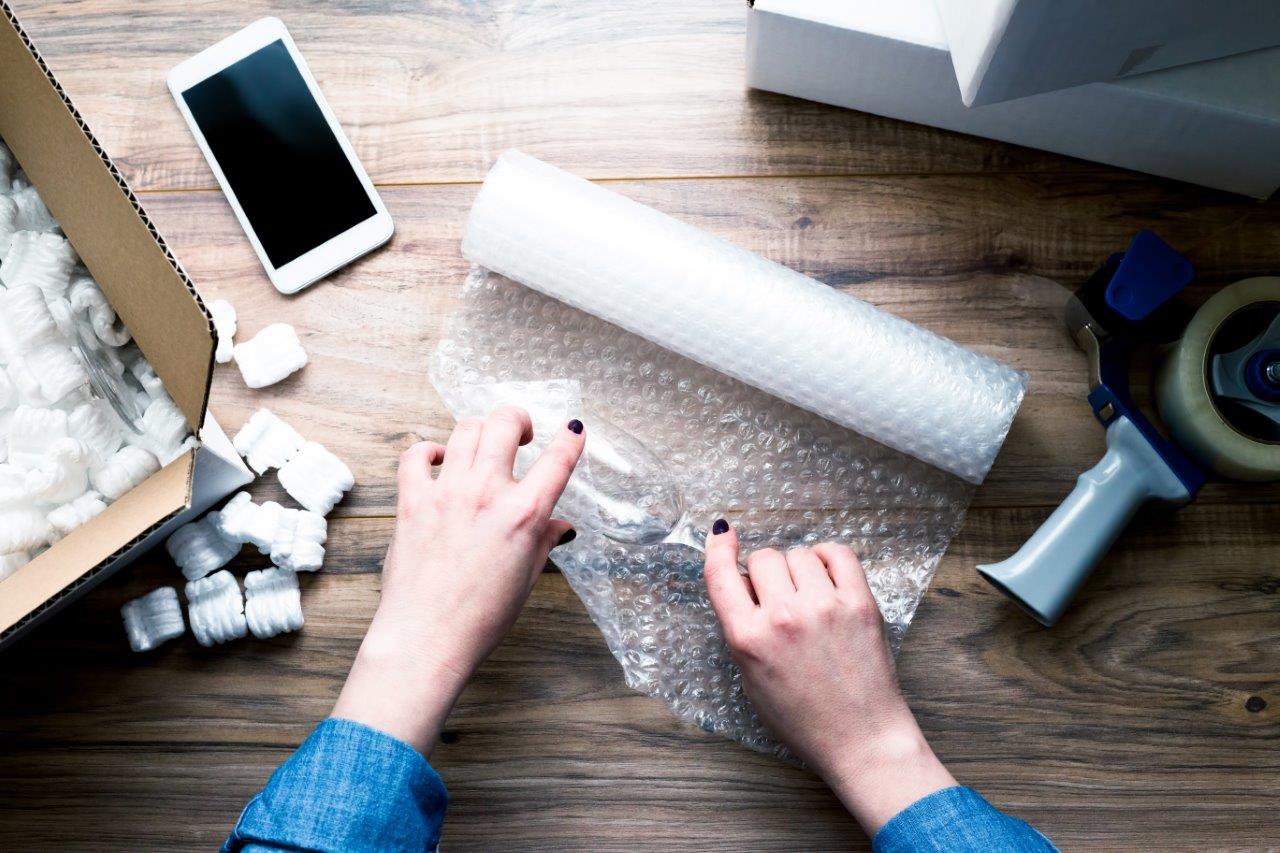 HOUSEHOLD APPLIANCES
DRAIN ALL APPLIANCES AND EQUIPMENT THOROUGHLY. This includes any hoses or internal components.
To avoid damaging fragile parts, remove glass shelves from refrigerators or freezers and wrap with blankets or bubble wrap to store safely. REMEMBER TO WRAP ONLY DRY ITEMS.
Keep refrigerator, washer and dryer, freezer and other doors slightly open to allow for airflow. Remember to wipe down all rubber seals to make sure they are dry.
Finally, make sure the internal and external surfaces are free of food or debris.
UPHOLSTERED CHAIRS AND SOFAS AND MATTRESSES
Cover many items with moving blankets or painter's cloth coverings.
DO NOT MOVE IN THE RAIN OR DURING A HIGHLY HUMID DAY. If anything gets damp, allow some time for the material to dry well in a well-ventilated area before placing it in a storage unit. Vacuum the items well.
Make sure to use cleaners that are antibacterial and wipe the furniture thoroughly.
Store mattresses flat on a tarp or blanket to protect inner coils.
Do not store heavy items on top of mattresses, couches or chairs. This could cause damage to the cushioning or springs inside.
ELECTRONIC EQUIPMENT
Take photos of wire routing or make a diagram before you start taking equipment apart.
Place the photos or diagrams in the packaging with the item for re-assembly later.
Save your original packaging materials and use them to store electronic items if possible.
If the original packaging is not available, fill all empty space in a new box that is just large enough for bubble wrap or special packing peanuts.
DO NOT USE PLASTIC TO WRAP ELECTRONIC COMPONENTS! Moisture may be trapped and may not escape. Use a breathable material to wrap all items in storage.
Do not place items on top of electronics.
Place the wires only with the items in the packing where they are used so they will not be confusing when re-assembling later.
FURNITURE SUCH AS COUCHES AND CHAIRS AND OTHER CLOTH ITEMS
For added protection, apply sheets or drop cloths to your furnishings and secure with tape applied only to the sheets or painter's drop cloths. NEVER TAPE DIRECTLY TO WOOD THIS CAN DAMAGE THE FINISH.
WOOD FURNITURE ITEMS
Take photos to ease re-assembly
Clean and wax all wood items before wrapping and covering.
Disassemble thoroughly. Legs and other items tend to break off and get in the way of storing other larger items and catch on and tear up things during the move. You will also tend to ding up walls on the way out of your old place or into your new if things are left to grab or catch on corners.
All hardware should be well labeled and placed in a small container or bag. Then keep these containers or bags with the piece for easy reassembly. Remember to label the bags or containers also as an extra layer of protection during a busy move.
Place blankets or padded covers between pieces to help avoid scratches while transporting or damage when in storage.
ADDITIONAL ITEMS
Make a list of packing supplies. Make sure to list the boxes, tape, furniture covers, painter's cloths, packing peanuts and bubble wrap you need to help prepare your belongings for storage and avoid tarps or plastic that will not breath.
Stores like Lowe's and Home Depot sell much of the packaging supplies you need at a lower cost than some specialized stores. Avoid the grocery store boxes that have had food items in them to keep from attracting insects and vermin. ABC Stores will have boxes of certain sizes that may be helpful, but are sometimes open at the bottom and, therefore, are of limited use.
Please come by and visit us in person or on the web for more information.